My last post reviewed the first few months of Jeff Sessions's tenure as US attorney general.
As Trump supporters entered the summer of 2017, most felt optimistic about the former senator from Alabama.
One said — probably with misplaced confidence — that Sessions should investigate the mysterious Democrat-connected deaths of DNC staffer Seth Rich, UN official John Ashe, Victor Thorn and Sean Lucas: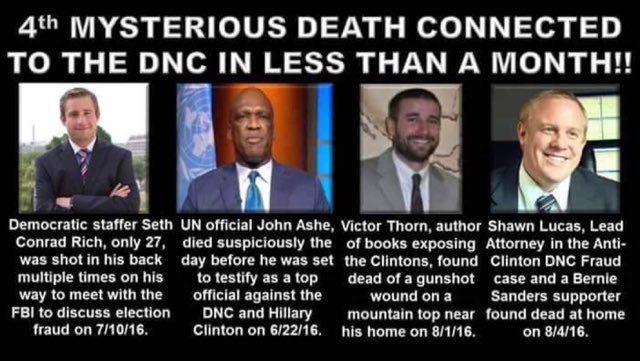 On July 13, we cheered at this news item:
Ordered by court to disclose his Russia ties, Sessions releases a blank sheet of paper.
That same day, the Department of Justice issued this Sessions-related announcement:
National Health Care Fraud Takedown Results in Charges Against Over 412 Individuals Responsible for $1.3 Billion in Fraud Losses:
Largest Health Care Fraud Enforcement Action in Department of Justice History
And we liked that Sessions had addressed the organisation defending the Colorado cake baker, arousing the ire of the Left, including Big Media:
On Tuesday night, June 11, Attorney General Jeff Sessions gave a speech to the members of the Alliance Defending Freedom (ADF), a religious freedom group. The ADF is assisting the Supreme Court case involving Jack Phillips, a Colorado baker who refused to bake a gay wedding cake.
Major networks are enraged. In headlines for both ABC and NBC, they called the ADF an "anti-LGBT hate group." On what would the networks base that characterization? It's the hysterical assessment of the Southern Poverty Law Center (SPLC).
A month earlier, the Senate Intelligence Committee called Sessions to testify about his Russian connections. Robert Mueller had begun his investigation in May. Sessions told the Senate committee in part:
As you know, the Deputy Attorney General has appointed a special counsel to investigate the matters related to the Russian interference in the 2016 election … Let me address issues directly. I did not have any private meetings, nor do I recall any conversations, with any Russian officials at the Mayflower hotel …
Let me state this clearly, colleagues. I have never met with or had any conversation with any Russians or any foreign officials concerning any type of interference with any campaign or election in the United States. Further, I have no knowledge of any such conversations by anyone connected to the Trump campaign.
He went on to — rightly — smack down then-Senator Al Franken (D-Minnesota) who asked him about Russian collusion in March.
Sessions went on to discuss his recusal. As most of us are aware, Sessions is 100% out of the loop. Unfortunately, Sessions's supporters think he is at least reading status reports. Not really:
I have no knowledge about this investigation as it is ongoing today beyond what has been reported. I don't even read that carefully. I have taken no action whatsoever with regard to any such investigation. On the date of my formal recusal, my chief of staff sent an e-mail to the heads of relevant departments including by name to director Comey of the FBI to instruct them to inform their staffs of this recusal and advise them not to brief me or involve me in any way in any such matters. In fact they have not.
At the time, the media were publishing rumours that Trump was ready to sack Mueller. Senator Mark Warner (D-Virginia) asked Sessions if he thought Trump had confidence in Mueller, then if he (Sessions) would dismiss Mueller at any time. Sessions said that was deputy attorney general (DAG) Rod Rosenstein's job. Note the slip (emphasis in Sessions's quote mine):
WARNER: I have a series of questions, sir. Do you believe the president has confidence?
SESSIONS: I have not talked to him about it.
WARNER: Will you commit to the committee not to take personal actions that might not result in director Mueller's firing or dismissal?
SESSIONS: I can say that with confidence. In fact the way it works, Senator Warner is that the acting attorney general.
WARNER: I'm aware, but I wanted to get you on the record.
SESSIONS: Deputy attorney general. —
WARNER: You would not take any actions to have the special investigator removed.
SESSIONS: I don't think that's appropriate for me to do.
Fair enough.
The cracks began to appear a few days later. On June 16, Trump was furious with Rosenstein. Of course, Sleepy's supporters said that Trump was playing 64D chess. Right …
I am being investigated for firing the FBI Director by the man who told me to fire the FBI Director! Witch Hunt
So it seemed strange for Sessions to say the following on June 20 at the National Summit on Crime Reduction and Public Safety in Bethesda, Maryland. This was his introduction for Rosenstein:
"Rod, thank you for those kind words and for your leadership, and your decades-long commitment to fighting crime and seeking justice," Sessions began.
"I read what he had written about crime as a United States attorney in Baltimore. I like what he said and come to know him, and you know we have a great deputy attorney general," Sessions said.
That was the day after Trump's explosive and exclusive interview to the New York Times appeared. The Conservative Treehouse (CTH) posted about it. That CTH thread was the beginning of ongoing rancour about Sessions that persists to this day.
Three NYT interviewers went to the White House for the candid interview. On Sessions and his recusal, Trump said:
"Jeff Sessions takes the job, gets into the job, recuses himself, which frankly I think is very unfair to the president," he added. "How do you take a job and then recuse yourself? If he would have recused himself before the job, I would have said, 'Thanks, Jeff, but I'm not going to take you.' It's extremely unfair — and that's a mild word — to the president."
Mr. Trump also faulted Mr. Sessions for his testimony during Senate confirmation hearings when Mr. Sessions said he had not had "communications with the Russians" even though he had met at least twice with Ambassador Sergey I. Kislyak. "Jeff Sessions gave some bad answers," the president said. "He gave some answers that were simple questions and should have been simple answers, but they weren't."
A spokesman for Mr. Sessions declined to comment on Wednesday.
Trump had opinions on DAG Rosenstein, too:
The president also expressed discontent with Deputy Attorney General Rod J. Rosenstein, a former federal prosecutor from Baltimore. When Mr. Sessions recused himself, the president said he was irritated to learn where his deputy was from. "There are very few Republicans in Baltimore, if any," he said of the predominantly Democratic city.
He complained that Mr. Rosenstein had in effect been on both sides when it came to Mr. Comey. The deputy attorney general recommended Mr. Comey be fired but then appointed Mr. Mueller, who may be investigating whether the dismissal was an obstruction of justice. "Well, that's a conflict of interest," Mr. Trump said. "Do you know how many conflicts of interests there are?"
The next day, Sessions held a press conference to respond to Trump's criticism. Commenters at CTH had formed more entrenched opinions overnight.
I really don't have a take on Jeff Sessions one way or another. I didn't see him as the Attorney General when he was selected, though I did expect him to head an agency with a high rank in the Cabinet.
When he recused himself, I felt very disappointed because it came across to me as a subtle implication that something, however innocuous, occurred on during the Campaign. (Fueling the fire of the opposition.) I truly wish he would not have done that. And, then today, he refused to address the questions posed concerning President' Trump's remarks. He came across as bit arrogant to me. I am disappointed.
That comment received this reply (excerpted):
Not sure why you are disappointed that he didn't answer questions about what his boss said about his performance to another person. He wouldn't fuel the gossip? That's a good thing.
The following exchange has also been typical of the arguments over Sessions.
If Sessions resigns and a new AG is appointed, can that AG stop Mueller? Just wondering.
Commenter B (writing in the style of Brer Rabbit):
Trump is gonna have to do it all hizself. Thy United Uniparty is trying to take him down…including Brother Sessions.
Sessions is trying to take down Trump? You have lost it. Check yourself in somewhere.
On July 22, Mueller's people allegedly started leaking to the media, including the Washington Post and CNN.
On July 24, the Washington Post published this headline:
Trump leaves Sessions twisting in the wind while berating him publicly
That day, Trump tweeted:
So why aren't the Committees and investigators, and of course our beleaguered A.G., looking into Crooked Hillarys crimes & Russia relations?
In the early hours of July 25, Trump tweeted:
Attorney General Jeff Sessions has taken a VERY weak position on Hillary Clinton crimes (where are E-mails & DNC server) & Intel leakers!
That afternoon, he made the following remarks to a press gathering at the White House:
I'm very disappointed with the attorney general, but we will see what happens. Time will tell. Time will tell.
The local Fox station reposted an AP report about it:
President Donald Trump cranked up the heat Tuesday on Attorney General Jeff Sessions, scorning him as "very weak" and refusing to say whether he'll fire the nation's top law enforcement officer and his onetime political ally. It was an extraordinary public rebuke, and even fellow Republicans pushed back forcefully.
The article alleged:
In private, Trump raged to confidants that Sessions had been disloyal in recusing himself from the federal investigation of Russia's meddling in the presidential election and the possibility of collaboration with the Trump campaign. Sessions himself had met with Russian Ambassador Sergey Kislyak before the election as a representative of the Trump campaign and thus stepped aside from the probe.
The article laid out the possible dismissal and replacement scenarios:
Should Sessions depart, several scenarios could unfold. If Trump follows his own executive order outlining a succession plan, Deputy Attorney General Rod Rosenstein would become acting attorney general until a successor was nominated and confirmed by the Senate …
But Trump also could invoke his authority under the federal Vacancies Act to temporarily fill the slot with someone of his choice who has already been confirmed by the Senate to another position. That could include Cabinet members or other top Justice Department officials— but only if the attorney general resigned as opposed to being fired, said University of Texas law professor Stephen Vladeck.
Another option: A recess appointment would allow Trump to appoint anyone of his choosing to be attorney general if the Senate recesses for 10 days or more in August.
Sessions' exit could also raise the specter of Trump asking Rosenstein — or whomever he appoints to fill the position — to fire Robert Mueller …
The third option did not — and will not — happen.
I favour the second option, provided Trump can make Sessions uncomfortable enough to resign. The temporary appointee would only be able to be in situ for 210 days, but, as many have said, with the right person in the job, a lot can get done within that time.
The article concluded with comments from then-communications director Anthony Scaramucci and press secretary Sarah Sanders:
Anthony Scaramucci, the president's new communications director, said in an interview with radio host Hugh Hewitt that Trump is "obviously frustrated" with Sessions. When Hewitt said it was clear that Trump wants Sessions gone, Scaramucci replied, "You're probably right."
White House deputy press secretary Sarah Huckabee Sanders told Fox News' "Fox & Friends" that the president was "frustrated and disappointed" with Sessions for recusing himself from the Russia probe.
"That frustration certainly hasn't gone away. And I don't think it will," she said.
Sarah's a straight arrow and means what she says.
That day, CTH's founder, Sundance, posted an analysis, 'The Rift Between President Trump and AG Sessions is Very Real and Very Valid', excerpted below:
… the MAGA community has largely portrayed the rift as if the Presidential critique was part of a larger strategy between the President and Attorney General. If we wait long enough some mysterious master plan is eventually to be discovered.
However, the subsequent POTUS tweets and comments do not indicate any joint strategy at all. What they do actually show is a genuine disappointment and frustration with the focus of Jeff Sessions; and the cabinet member's apparent unwillingness to confront the corruption within the DOJ and by extension the larger DC swamp …
President Trump affirms his 'confidence' in Jeff Sessions' ability to do the swamp draining and simultaneously expresses 'disappointment' that AG Sessions chooses not to.
Confidence and disappointment are not mutually exclusive sentiments.
… there's a larger issue at DOJ central where the refusal to confront the corrupt aspects within the organization only serves to fuel and enable the continuance of a corrupt swamp in Washington DC.
Sundance's pro-Sessions readers didn't take a blind bit of notice. And they all admire Sundance, maybe a bit too much.
Also, on July 25, news emerged that Sessions was about to get tough with leakers. The Gateway Pundit said:
The President has the law on his side. Attorney General Sessions needs to add these entities and individuals to a growing list of corrupt swamp dwellers that he needs to bring to justice.
Sessions doesn't understand that, though.
The next day, Trump tweeted a two–parter about since-dismissed deputy FBI director Andrew McCabe:
Why didn't A.G. Sessions replace Acting FBI Director Andrew McCabe, a Comey friend who was in charge of Clinton investigation but got….
…big dollars ($700,000) for his wife's political run from Hillary Clinton and her representatives. Drain the Swamp!
ZeroHedge posted an iBankCoin article about this, which rightly pointed out:
These tweets are designed to apply pressure on Sessions to quit. After the inauguration, Trump looked like he wanted a detente with the establishment. He even said he would not pursue Hillary Clinton for crimes against the state. But that all changed after the democrats and establishment sought to imprison Trump and his family, via 'Russian ties.' So, here were are now, with a very militant Trump in search of retribution and revenge. To accomplish this, he's gonna need a war time AG. Sessions doesn't have it in him. Rightards are freaking out over this, especially the neocon scum.
Another issue that Sessions refuses to revisit is Lois Lerner's weaponisation of the IRS against individual conservatives and conservative organisations during the Obama years. CTH posted an article on this, 'Trump's "Disappointment" – An Example of What AG Jeff Sessions Refuses To Address…', excerpted below:
In October 2015 the Department of Justice (DOJ) announced it was dropping the investigation into the IRS, Lois Lerner, and the unlawful sharing of taxpayer data in the IRS targeting investigation surrounding True The Vote et al.  The decision was laughable. The DOJ dropped an investigation into illegal activity conducted by the DOJ? Oh, ok..
As a direct consequence of the DOJ decision, congressional inquiry into the IRS/DOJ targeting matter seemingly dropped from the radar and disappeared into the ether of the Swamp without anyone paying much attention …
The very fact that the IRS was using the phrase "secret research project" should give every American pause. But the fact that this project was conducted as part of a well-orchestrated effort to target and silence conservative Americans is utterly disturbing …
This is actual evidence the DOJ was weaponized against a large portion of the American electorate. This reality is not in dispute. This actually happened. Yet, no-one has ever been held to account. Why?
Well, Sleepy ain't gonna ask any questions.
In fact, instead of giving even a half-hearted yet intelligent response to Trump's criticism, The Telegraph reported on July 27 that Sessions found his words 'hurtful'. He was — and is — waiting for Trump to fire him:
Jeff Sessions has descibed Donald Trump's criticism of him as "hurtful" but insisted he will stay in the role of attorney general for as long as the US president wants him to serve.
There was much GOPe criticism of Trump, as if he had been picking on Sessions. The article went on to say:
Lindsey Graham, the Republican senator from South Carolina, warned on Thursday there would be "holy hell" to pay if Mr Trump fired Mr Sessions.
"If you're thinking of making a recess appointment to push out the attorney general, forget about it," Mr [Ben] Sasse [R-Nebraska] said. "The presidency isn't a bull, and this country isn't a china shop."
Sessions's hot July wasn't over yet — more to come soon.
That said, he didn't really seem to mind the heat.
Hmm.
Is he that stubborn?
Or was he just asleep?
Or is he compromised?